Charles McCrary
Wedding season is upon us! If you attend a wedding this summer, you might notice that the officiant is not a professional clergyperson but a friend or relative of the couple. In preparation to officiate a wedding this summer I, like millions of other non-clergypersons, was ordained by the Universal Life Church. (In closely related news, send your congratulations to Cara Burnidge and Mike Graziano!) But what is the ULC? And how does it fit within the landscape of contemporary American religion? To find out, I turned to Dusty Hoesly, a PhD candidate in American religions at the University of California, Santa Barbara. His article
"'Need a Minster? How About Your Brother?': The Universal Life Church between Religion and Non-Religion"
provides a helpful overview to and insightful analysis of the ULC. Today, RiAH welcomes him for an interview that might be just the wedding-season prep scholars of religion need.
Hi Dusty. Thanks for doing this interview. Let's start with some history. How did the Universal Life Church begin? In what context did it arise?
Thank you for inviting me to share my work with you and the RiAH readers.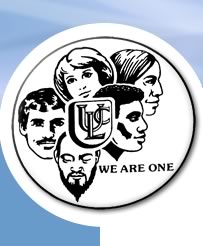 The ULC logo
Kirby Hensley (1911–1999) began "Life Church" in his home garage in Modesto, California, in 1959, then incorporated it as the
Universal Life Church
in 1962. Although he was illiterate, he had served as an itinerant minister and church planter for Baptist congregations and then the Assemblies of God, working in North Carolina, Michigan, Oklahoma, California, and other states. However, his views were seen as too idiosyncratic, so he did not remain at any church for too long. Frustrated with theological orthodoxies imposed on him by denominational authorities and congregations, he decided to create a church that would allow anyone to believe whatever they wanted. The ULC's sole creed became "to do that which is right," as each determines for themselves what that means. Hensley also sought to ensure First Amendment freedoms for all people. If everyone has their own religion, as he claimed, then everyone should benefit equally from religious liberty protections and enjoy the same benefits accorded to more established religions and to their clergy. Thus, the church ordained anyone for free and for life, with no theological commitments required. It became the most famous and the largest mail-order ministry in America, ordaining over one million ministers by 1971 and spawning thousands of charter churches under its auspices. It also held mass ordinations on college campuses, organized annual national conventions, and published periodicals and other materials.
The social and cultural upheavals of the 1960s and 1970s are the primary context for the ULC's growth. During this era, many people explored new and immigrant religions, developed their own eclectic spiritualities, demanded gender equality, insisted upon personal spiritual experiences as authoritative, dropped out of religion altogether, and effected other changes that upended conventional conceptions of religion in America. For those dissatisfied by established religions, the ULC provided an avenue for spiritual growth via correspondence courses for honorary theological degrees. However, the church became more well-known for ordaining men who wanted to avoid the Vietnam War draft and, later, for providing ministerial credentials and chartering churches to people who wished to avoid paying taxes. While a federal judge declared the ULC to be a religion deserving of tax-exempt status in 1974, the ULC's embrace of the tax protest movement of the 1970s and 1980s resulted in the IRS and local tax agencies investigating the ULC and, ultimately, revoking its tax-exempt status in 1984. Courts upheld this determination and the ULC finally settled with the IRS in 2001. In other contexts, state and federal courts issued contradictory rulings about the ULC's status as a religion, the religious status of its ministers, and the validity of weddings conducted by ULC clergy. Like many new religious movements, the ULC faced greater government scrutiny than more established religions. The ULC also garnered attention for ordaining celebrities, such as The Beatles, the Rat Pack, Norman Lear, and renowned atheist Madalyn Murray O'Hair. Also during the 1960s and 1970s, for couples seeking to have a "new wedding," one that eschewed traditional religious elements and placed greater emphasis on the couples' desires, the ULC provided a vehicle for a friend or relative to get ordained and then to perform the ceremony legally in most jurisdictions.
Three developments have shaped the ULC's history since the mid-1990s. First, the internet made ordination simpler and expanded access to news media that highlighted ULC weddings and online ordinations. The ULC created its website in 1995 and by 1998 it had ordained over 16 million ministers. Second, the rise of the "Nones" and "spiritual but not religious" self-identifications since 1990—alongside factors such as increased education levels, delayed first marriage, rising rates of interfaith marriage and premarital cohabitation, and the legalization of same-sex marriage—resulted in the rapid growth of couples seeking personalized, nonreligious weddings. Such trends were advertised on TV shows like
Friends
,
Felicity
, and others. Third, after the deaths of Kirby Hensley (1999) and his wife Lida (2006), the
Universal Life Church Monastery
, which had been a branch of the ULC headquarters, took control of the ULC web domain and registered hundreds of other similar domains. The ULC Monastery, led by George Freeman and based in Seattle, Washington, owns most of the websites related to the name Universal Life Church and to associated search phrases such as "online ordination" and "internet minister" (e.g., ulc.org, themonastery.org, and getordained.org). The original ULC is led by Andre Hensley, Kirby's son. Altogether, the ULC and its offshoots have ordained over 23 million people.
The ULC (and various spin-offs and affiliates) seems to function primarily to ordain people for the purposes of officiating weddings. But does it—or did it, at some point—exist as a more comprehensive community or movement? In other words, are there people who are ULC members for reasons other than officiating a wedding?